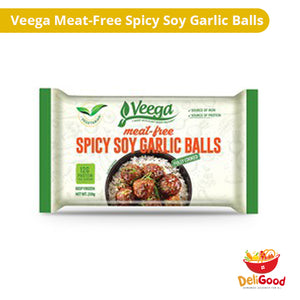 - Irregularly round shaped balls with spices

- Veega Meat-Free Balls are made are made with plant based proteins, offering a good source of protein, fiber and delicious goodness. Aside from being meaty and juicy in every bite, these balls are simply vegetarian

-with no added preservatives. Just RIGHT and LIGHT! Perfect for spaghetti, misua, or even just with rice. Savor your guilt-free fix with Veega Meat-Free Balls! Eating right never tasted this good! EASY, YUMMY, MEAT FREE VEEGA!

-Servicing areas in Metro Manila only + some parts of Rizal and Cavite. Please send us a message before check out to confirm if your location is serviceable.