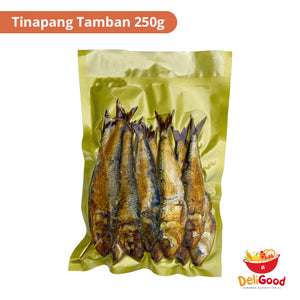 Freshly smoked Tamban(Sardines) fish from Bataan

-Vacuum-Sealed Freshness
-Deep smoky flavor and great tasting
-Good For 3 People

Indulge in the mouth-watering delight of our freshly smoked Tamban (Sardines) fish, sourced from the bountiful waters of Bicol smoked in Bataan. Our product is vacuum-sealed to maintain its pristine freshness and ensure a longer shelf life. Experience the deep, smoky flavor that our smoking process imbues in each fish, providing a burst of rich taste in every bite. Perfect for sharing, our smoked Tamban fish can easily satisfy three people. Savor the delectable goodness of our smoked fish and elevate your dining experience today!