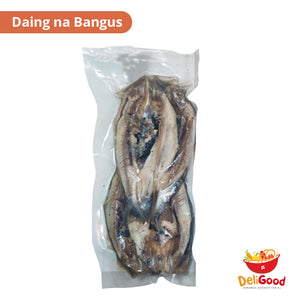 Freshly marinated and lightly dried Bangus (Milk Fish) from Bataan

-Sweet & Lightly Sour
-Crispy & Crunchy after frying
-Vacuum-Sealed Freshness
-Great Tasting
-Good For 3 People

Experience the perfect blend of sweetness and lightly sour taste in every bite of our Freshly Marinated Baby Bangus from Bataan. Our marinated fish is lightly dried to give it a crispy and crunchy texture that you'll love after frying. Vacuum-sealed for guaranteed freshness, our baby bangus is good for three people and promises a great taste that you'll surely enjoy.