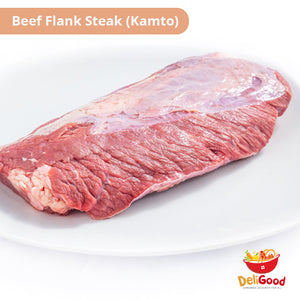 DeliGOOD BEEF FLANK or KAMTO  is at the abdominal part made up of abdomen muscles, thin tendons, and fats. This is a flavorful piece of meat, but is very lean, containing almost no fat. Despite its toughness, it can be tasty and tender if prepared properly. DeliGOOD BEEF FLANK is traditionally cooked as a soup dish for native dishes like BEEF PARES. The beefy flavors that can come out also from grilling like CARNE ASADA or as flavorful as BEEF FAJITAS. PRO-TIP: Put little knife pokes to break up some of the long fiber muscles. Always cut against the grain.
-Local BATANGAS BEEF and NMIS-certified
-Product may arrive FRESHLY CHILLED or FRESH FROZEN.
-Servicing areas in Metro Manila only + some parts of Rizal and Cavite. Please send us a message before check out to confirm if your location is serviceable.