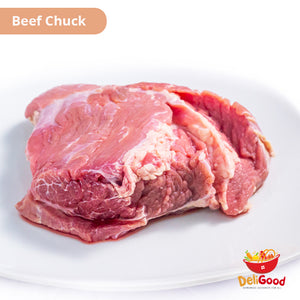 DeliGOOD BEEF CHUCK or PAYPAY in Tagalog is the shoulder part of the cow. DeliGOOD BEEF CHUCK is known for having a rich, beefy flavor and can be more tender with longer cooking.  Braise or slow cook to tenderize the muscles and tissues as it cooks for a long time at a low temperature. This cut is suitable for Filipino beef stews like BEEF MECHADO  and is great for BEEF POT ROAST.
LOCAL BATANGAS BEEF
all DeliGOOD BEEF CUTS are NMIS CERTIFIED

Servicing areas in Metro Manila only + some parts of Rizal and Cavite. Please send us a message before check out to confirm if your location is serviceable.